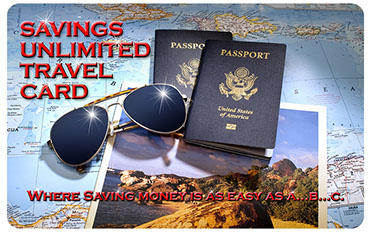 Savings Unlimited Travel Card
Where Savings Money is as Easy as A . . . B . . . C . . .
Never pay retail again! Your Savings Unlimited Travel Card has you covered on all your everyday purchases, along with saving you money on all your travel needs.

No matter what you are looking for, the Savings Unlimited Travel Card has thousands and thousands of merchants waiting to give you the best deal around.
From the smallest of items to the big ticket items, you will find savings. Whether you are looking for groceries or a new car, you will find it with your Savings Unlimited Travel Card.

Our mission is to bring you the most unique products, along with the very best prices on any product you want or need. We believe, "A penny saved is a penny earned," and by taking advantage of your Savings Unlimited Travel Card you can keep hundreds and hundreds of dollars in your pocket!

Deep Discounts on just about anything you can think of; Coupons and Promotional Codes for name brand products, Benefits, Hot Deals, Local Deals, and even some FREE stuff are just a few of the categories we have packed into your Savings Unlimited Travel Card.

There is something for everyone within the Savings Unlimited Travel Card. Items that you purchase everyday and unexpected purchases that you have to make. So, whether your interest is sports, travel, attractions, recreation or saving money, this is the place for you!
Your Perfect Vacation Awaits
From the turquoise waters and golden sands of the Caribbean to the lush, green rain forests of Hawaii, and from the glitz and glamour of Sin City to the symphonic sounds of the Big Easy, the perfect vacation is out there.

Whether the itinerary includes championship golfing, world-class scuba diving, deep sea fishing, water slides, boating, horseback riding, white water rafting, windsurfing, mountain biking, tennis, downhill skiing, gambling, sight-seeing or good old' fashioned relaxing . . .

We have the right accommodations to fit even the fussiest of travelers.
Whether you are looking for a one night hotel, a romantic weekend getaway, or an adventure on the high seas, your Savings Unlimited Travel Card will save you money!
For less than the cost of a hotel room
You can enjoy luxurious 1, 2, or 3 bedroom accommodations in the United States, Mexico, Caribbean, Asia, South Pacific, South America, Europe, Bahamas, Canada, Australia, Africa, and many other destinations.
We have millions of weeks available in hundreds of countries.
Key Benefits
Below Rack Rate Pricing
No Blackout Dates
No Booking Fees
No Maintenance Fees
No Ownership Cost!
Experienced Travel Agent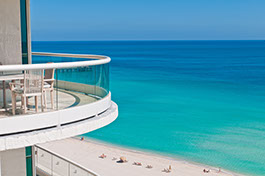 Great Experience/Great Value
We offer the experience you are seeking– Great Destinations, Spacious Accommodations, and Great Amenities. A Condo Vacation can accommodate family groups and typically provides a full kitchen.
Check out the savings one of our members enjoyed!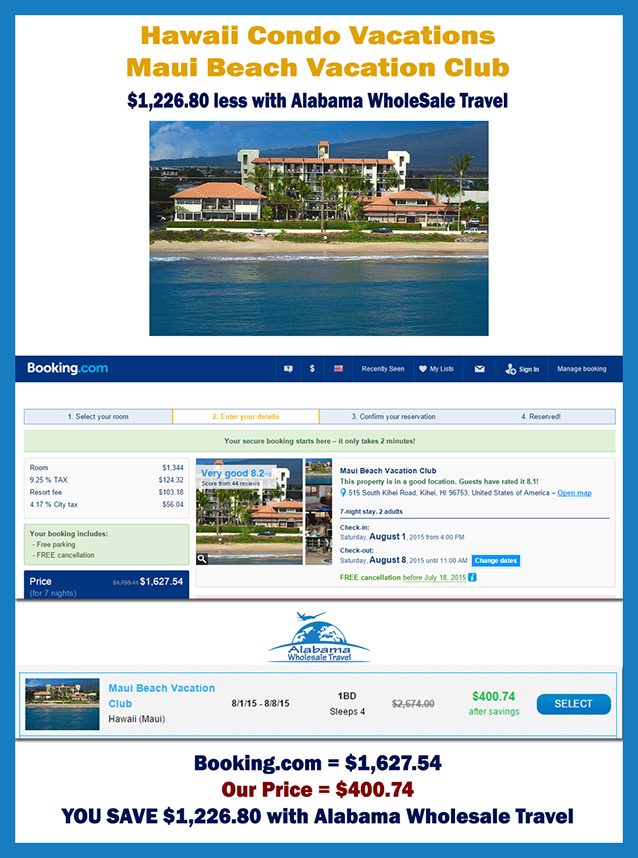 You can even book condos for as low as $100 per WEEK!
Worldwide Resort Destinations, Last Minute Resort Vacation, and Customer Service that will serve as your personal travel agent is just a few of the benefits you will have access to with the Savings Unlimited Travel Card.

You will be able to save on car rentals, sports packages, activities, cruises, flights and tours. We can custom design the vacation of your dreams - You name it - we will find you the best deals and it is all included with your Savings Unlimited Travel Card.